In an attempt to resurrect this blog (again… I know, I know…), I've decided to repurpose some "Tip o' the Week" emails that I've written and published for an internal Microsoft audience. Some of the internal ToW's are very specific to Microsoft so I'll probably skip them. Others will need polishing up a bit to make them useful for the external reader, but I hope the process will be worthwhile.
The style of the ToW is informal, tends to be exxample-heavy and (I hope) densely useful – ie. in not many words, that takes a short time to read, the reader will generally learn at least one useful thing. Feedback I've had from Microsoft people who read these weekly emails has been so encouraging that it made me want to share them with others. I hope you like them – do give me feedback either way…
Tip o' the Week #1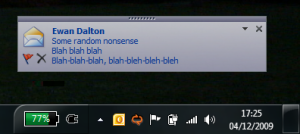 In this inaugural Tip o' the Week, here's a simple fix to prevent distraction during your working day.
Outlook 2007 introduced a really neat way of showing you a preview of incoming mail. It was so much more helpful than the simple "new mail" envelope, or the noisy bong to tell you that something new has just landed in your inbox.
SWITCH IT OFF. Seriously.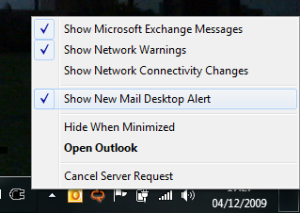 At least try switching it off to see how you get on. Though it's really cool and everything, it is arguably the most distracting thing within the Office System.
To turn off, simply right click on the Outlook icon in your system tray, then click on the Show New Mail Desktop Alert, to stop it.
If you absolutely can't live without it, reverse the process and you'll be back to normal.