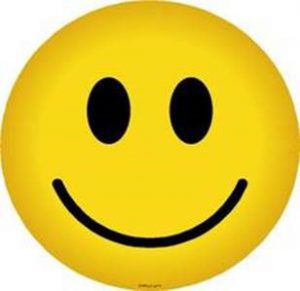 "Smileys" have been around in one form or another for a surprisingly long time. The use of the original 🙂 smiley goes back 35 years, but written symbolism to convey emotion goes back to the 17th century, maybe even in the days of Lincoln.

In modern times, the smiley has evolved; after the grinning yellow dot being used in various waves of popular culture, the textual facial-expression-on-its-side became more common as people flocked online and started using email and instant messaging. Gradually, icons of a variety of smileys helped convey a wider range of meaning – becoming known collectively by the portmanteau, "emoticons". Or the Japanese-based variant, emoji. If you're bored sticking pins in your eyes, you could be watching a Turkey at the flicks, though you're more likely just an end-user of the emoji symbols.

Over recent years, emoji have become more mainstream and therefore the interpretation of symbols across different platforms has grown in importance – if you enter 🙂 into many apps, you'll get a – as configured in the AutoCorrect function in Office, and natively supported in lots of other applications, and if you send a text message with emoji in it, you'd hope that it gets interpreted correctly at the other end.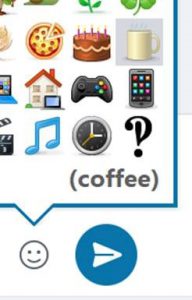 To insert emojis into your mail, IM or whatever, you could type the foundation characters – like 🙁 or 😀 – or copy & paste the relevant symbol from a source such as http://emojipedia.org/microsoft/.
If you're using Skype (consumer, and Skype for Business), though, there's a shortcut for each emoticon, that you can type to insert the relevant symbol – eg. (t) or (call) will insert

the symbol to the left, or (c) or (coffee) will show the cup symbol. Just hover over the symbol and you'll see the shortcut you can type.
Other handy shortcuts for Skype for Business include (b), (d), (y), (n), (cic), (!), (e), (run), (k) – careful, mind… Why not try them out on your colleagues next time you're IMing?
The consumer Skype app has lots more emoji/emoticons than the Business version, as you might expect – generally speaking, there's not a lot of business need for 💩 or dancing gran icons.
Well, unless you know differently? ‍✋