Some tips deserve multiple bites* especially when the recipe changes between software versions. This one harks back to ToWs #457 and #482, yet it's still seemingly little known. If you ever have to watch someone share their desktop on Teams and fuss about when copying and pasting stuff, this could be a useful tip to share with them.
*ToW readers will probably know there are 8 bits in a byte; did you know that half a byte is called a nibble?
There is no accepted name for 2-bits, though Bing AI suggested it might be a "crumb".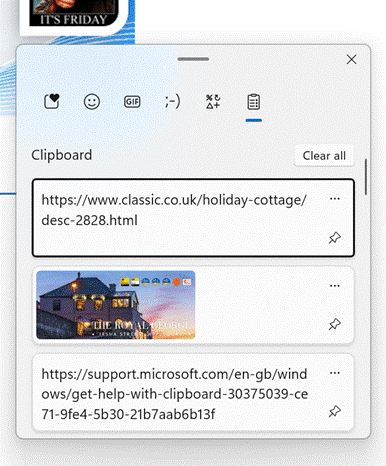 The metaphor of cutting and pasting has been around since the early days of interactive computing, taking inspiration from the way that printed publications would be edited together by physically cutting parts of one page and gluing/pasting them onto another. They might have been kept on a physical clipboard between the snip and the stick.
The Windows clipboard is common across all applications, and has an opt-in feature to keep a history so you can go back to something you copied previously; turn on the history or interact with your previous clips by pressing WindowsKey+V. See more on using Clipboard history. You can also sync the clipboard across multiple devices too.
The same UI for clipboard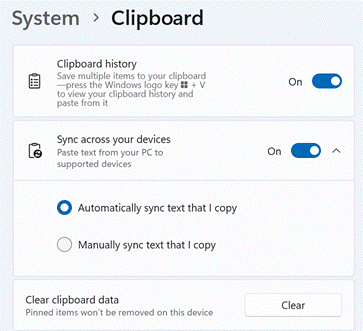 history can also be used to insert special characters, emoticons and the like, into any application – in fact, pressing WindowsKey+. (that's a full stop or period) brings up the smiley-picker, which is just another one of the tabs on the same dialogue as clipboard.
You can pin clipped items if you like, and pressing the ellipsis … gives the option of removing an item, or pasting it as text – handy if you'd like to paste a URL rather than a smart link that results in the title of a web page with hyperlink behind it.