Just over a year ago, the new release of the Edge browser with the Chromium engine was released, and lots of functionality has been shipped since. Much effort has been to differentiate the Edge browser from others, because it integrates better with Microsoft services and other offerings. From synching settings, history, favourites, extensions… to adding protections around passwords and having a great multi-profile experience… it's been getting better all the time. But 88 updates? That's crazy!
(it doesn't necessarily have 88 updates – that was just a ploy to get in the Crazy 88 link above)
The latest version of Edge shipped to mainstream users recently; release 88 is named after the core engine version, so Google shipped Chrome 88 at the same time. Some of the "what's new" in Chrome will be consistent with Edge, since the rendering engine is the same – like the deprecation of a couple of features; Chrome & Edge no longer have FTP support natively, and they finally killed Flash.
Back to Edge 88 – go to the … menu, then settings | about to find which version you have – there are a bunch of cool things to try out or investigate:
Themes – there are some really nice pre-built themes packaging background images and colour schemes; see them here. You can apply a theme to a specific user profile, which might help you differentiate them from each other – so a Forza or Halo theme applied to your personal profile would change the colour scheme for that one, making it easier to spot which profile you're using. You can also add themes from the Chrome web store.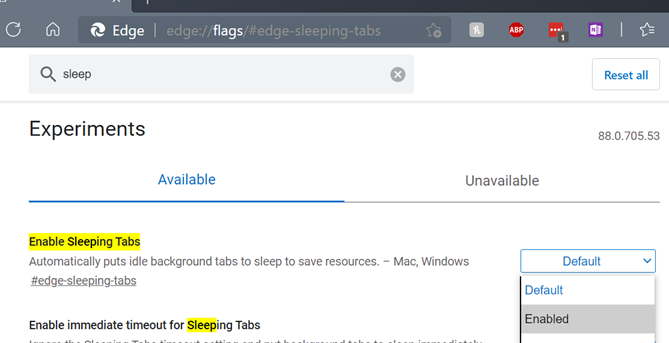 Sleeping Tabs – helping to reduce system resource demands, Edge can now make tabs go to sleep if they haven't been used for a while. You need to switch it on (the plan being that it will be a default in a later version) by going to edge://flags and search for sleep.
If you regularly use websites that fire notifications – like mail, or news readers – then be aware that they will not show when the tab is asleep. Work is underway to report back which sites should not be put to sleep, so Edge will be able to know when it's a help and when it would be a nuisance.

Passwords – as discussed previously when it was in dev mode, the password monitoring and strong password suggestion features are now generally available. Edge can look for common username/password combinations that are in your cached credentials, but which are known to have been leaked.
If you get a report of such a leak, you should change all of the passwords on affected sites as soon as possible. Looking under Edge Settings / Profile / Passwords, you should see the options to enable both Password Monitor and suggestion. For more info on how the Password Monitor works, check out this MS Research note.
PWAs and Profiles – Progressive Web Apps are increasingly being seen as the way to take a site and treat it like an app; it can show up in Start menu, can be pinned to task bar, will run with a specific icon and name, and won't have all the UI of a browser, so it looks just like a native app.

To install a PWA on Edge, just go to the … menu on the top right when you're browsing to a site, and you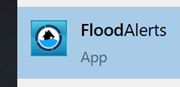 should see Apps > Install … as an option. You get to give the "app" a name, and it will then look and feel much like a native application.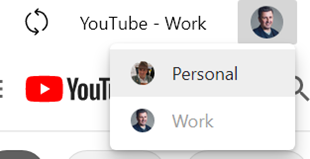 If you install the PWA in more than one Edge browser profile, there's a new function that means when you start the app – from the Start menu etc – then you can switch between which profile it should run in (scoping identity, passwords etc within).
PWAs are cool. Unless you're using Firefox, where PWAs are not cool.