Happy New Year! Do you have any resolutions that you've decided to follow, other than the usual (eat less, move more, try all you can to write 2023 instead of 2022)? How about cleansing your web browser start up screen to something more useful and/or less distracting?
With the Edge browser, the default New Tab Page (or NTP) presents a configurable and sometimes useful way to display information, however the source of news articles and the advertising that is shown alongside can sometimes be, er, challenging.
Third party advertising aggregators take sponsored content from an originator and present it as an advert. This presents a problem for the sites that choose to sell advertising space – in tiles mixed with legitimate sources in the likes of the NTP, or in chumbox "Recommended for You" type content at the bottom or side of articles.
Some of the ads often lead users to a site which will do more than try to sell them something – some try to get them to install browser addons, show faux review sites recommending dubious-at-best products, or fraudulently push get rich quick schemes and the like.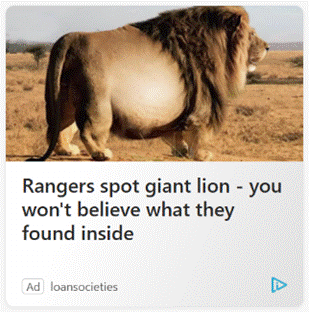 If the originator keeps foisting nonsense adverts with poor quality visuals and clickbait headlines through the aggregator, the content owner who relies on the revenue stream from the ads can complain and have it blocked – it doesn't do their reputation any good if their site is littered with stupid adverts.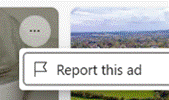 Ad blockers don't work on the Edge new tab page, but you can report a dodgy ad by clicking the ellipsis on the top right of the tile. Or submit a report here. This is a whack-a-mole game in a modern sense, since even if the original is blocked they may just appear the next day on a different URL but with substantially the same garbage content.
If this kind of insidious spam drains your energy, there are things you can do to minimize or remove the nonsense, even without switching to a different browser.

Looking at the Edge NTP, if you are using a browser profile signed in with a Microsoft 365 account, you might see "Work" or similar in the Enterprise page; it's extremely useful and quite customizable, and administrators could make Edge default to that tab. If users click on My Feed, they'll get the same view as a non-Enterprise tab, and it will stick for that user on the next new tab.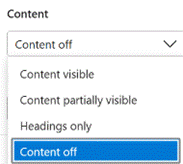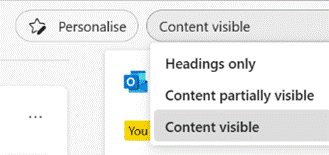 You can customize the "My Feed" section by choosing to Personalise your content selection and how you want it laid out, but if you want to switch the whole lot off altogether then look on the settings cog on the top right.
Switching the clickbait off will mean you get a beautiful Bing image taking up most of the screen (click the double-headed arrow on the bottom right to find out what it is), with a search bar and some collapsible quick links tiles pointing to pinned or recently-used sites, and other subtle info points like weather or stock prices.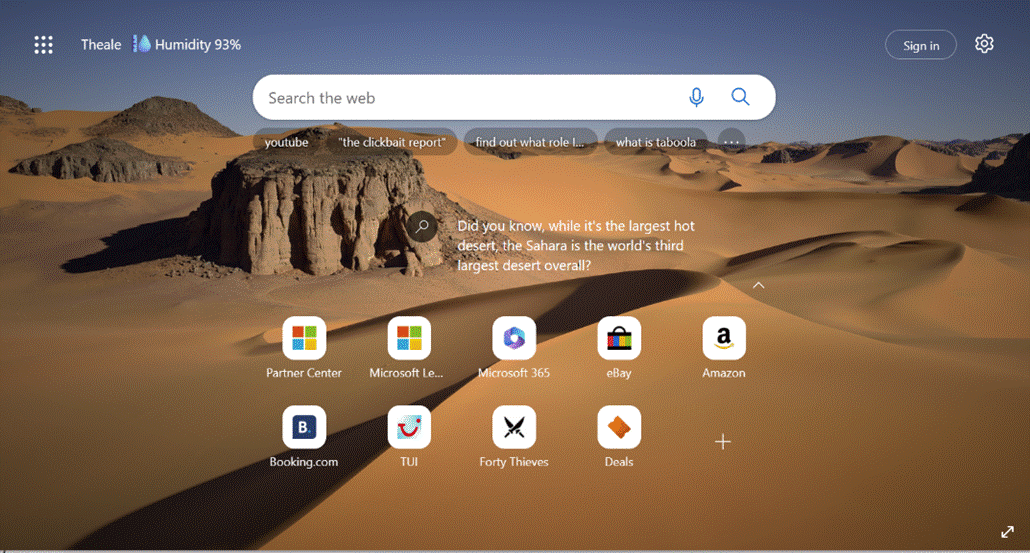 Replace NTP altogether
There is no option within Edge to set what the New Tab Page should be – it's only possible to tweak the one that's there already. Install a simple extension like Custom New Tab, however, and you can point it to any URL you like (a largely clickbait and ad-free news source like Google News might be one choice, or a customized set of sources from something like Feedly). After installing and configuring, you'll need to deal with Edge checking if you really want to replace the NTP and making sure that it's not being subverted by some malicious code. Just say Yes.
A final nail in the NTP could be to just silence all the distractions by installing the Blank New Tab extension: that's the equivalent of setting the new tab page to be about:blank.
If you're still using Edge and have replaced the NTP with something else, yet feel like checking in on either your M365/Enterprise page or you'd like to outrage yourself over the stupid adverts polluting the "My Feed" section, just drop https://ntp.msn.com/edge/ntp?query=enterprise into the address bar to get the classic NTP experience.