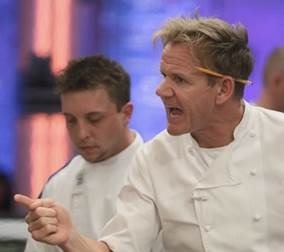 Since many US colleagues are recovering from an eating & drinking stupor having recently given thanks, this week marks a departure from the usual Tip o' the Week recipe. Instead of tech tidbits or productivity morsels, we're making a delicious yet fairly healthy staple in only a few minutes, courtesy of sweary Chef Ramsay.
Yes, readers, fresh soup in less than 10 minutes and with only 3 ingredients – broccoli, water and salt.
It's not uncommon for soup recipes to start with sweating onions or shallots in butter and garlic, adding herbs, chicken stock etc. But not this – it's vegan and keto-friendly, and is best if you make it right before eating. Adding creamy cheese to the bowl before serving will give it a nice rich finish (though may compromise the vegan-ness).
The key thing about this soup is that the broccoli is cooked in water with the lid on, and the water is saved and used like stock to liquidize it into a smooth and light soup. It's important to blend it while still steaming hot, and that means it can be served straight from liquidizer to bowls (though it can be re-heated, frozen etc, if necessary).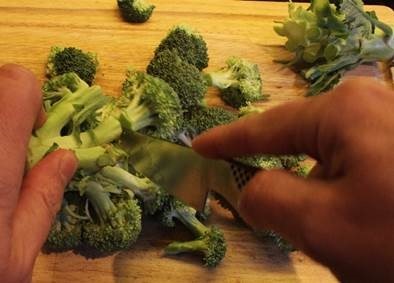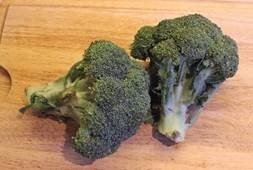 Start with one or two heads of broccoli, the fresher and darker green the better – about 300g in weight before trimming would make enough for 2 or 3 portions (or 4 if you were doing a light starter).
Hold by the stalk and run a sharp knife around the tips to cut off the florets (you can keep the stalks for vegetable stock, or add to a stir fry etc, but in this case we're just using the darker florets).
Add water to a decent-sized pan with a close-fitting lid – about 1.5-2x as much water as the weight of the broccoli florets. In this example, we started with 300g, which gave 230g of florets, and added 450ml of water. Or 2/3lb of broccoli, yielding about 1/2lb of florets, cooked in a little under a pint of water, if you prefer those measures.
If you're in a country which still measures mass by fractions of a hundredweight, you might not realize that a litre of water (=1000ml) at room temperature weighs a kilogram, so 1g = 1ml. It's often easier to weigh water with digital scales than to try to use a volume measuring jug.
Add a good few scrunches of sea salt to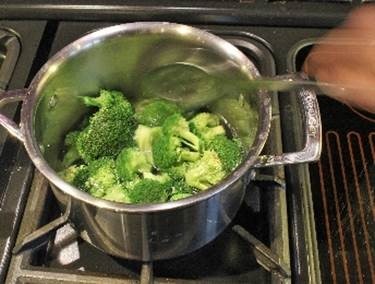 the pan, put the lid on and bring the water to the boil. Once boiling, drop the broccoli in and toss it around in the water. Add a little more salt on top and replace the lid.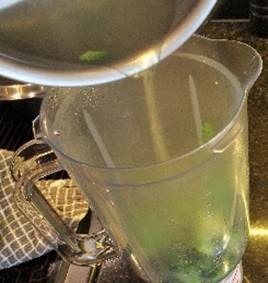 Boil for around 4 minutes, to the point where the knife could cut through the broccoli with no resistance (ie if the knife goes easily through a floret to hit the side of the pan, it's ready).
Spoon the broccoli into a liquidizer jug and pour the remaining water in – experience will tell you how much is needed (the water will be below the level of the florets in the liquidizer). Season with a final scrunch of salt and black pepper.
Pulse the liquidizer a few times, then start slowly and then give it a 30-60secs on full blast, until you can see the soup is smooth and velvety. You can always add a little more hot water gradually during the blend, if you think it's too thick (at full speed, look in the top of the jug and you should see a swirling vortex – if it's just blobbing up and down, it'll be more like puree than soup so add some more – ideally recently-boiled – hot water).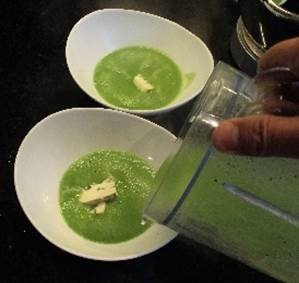 Gordon suggests pairing with some walnut halves and some ash-rolled goats cheese; in this example, it's Montagnolo Affine, a creamy blue cheese which melts a little into the hot soup and gives it an extra lift.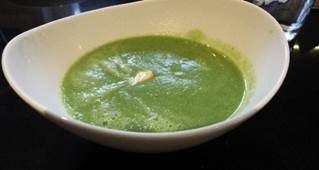 Serve by pouring on one side of the bowl and let the soup flow around. If you've seasoned it lightly but often throughout the cooking process, it won't need anything else on top, other than some froufrou garnish if you like. Enjoy.
Normal service of talking about Excel pivot tables and other rubbish resumes next week. Happy Thanksgiving to those who celebrate it.