Another post from the "Random Stuff" category. Just over a year ago, I wrote on how to cook the perfect fillet steak, and amusingly, it's by far the most-read post on this blog – by a factor of more than two…
So here's another one for the New Year, and it's about one of those ordinary jobs which some of us don't do often enough, and others do it to a point of obsession: I'm talking about washing the motor.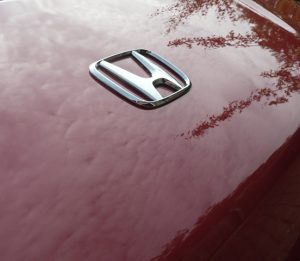 There are few things more bonding between a man and his car than giving it a good clean. I mean, you get to see all the lines up close and from angles you wouldn't normally spend any time looking at. I know it might sound a bit sad, but hand-washing the car gives you a rare chance to check out there aren't problems with it up close – stone chips, maybe, kerbed alloys, unexplained dings etc.
Uber-petrolhead Jay Leno apparently likes to plonk a chair in the middle of his garage and enjoy looking at his extensive collection, with a glass of wine. I can totally see where he's coming from, though kneeling in a puddle next to your own Pride & Joy is probably the nearest most mortals will get to Jay's experience.
So, here are my own tips for car washing, culled from many car owners' forums discussions on detailing, waxing, washing etc. It might sound like something that's in the realm of the bleedin' obvious, but a few of these tips made a big difference to me in time, effort and end result.
Firstly, some do's & don'ts…
Don't use an automatic car wash – the jetwash might be OK if your car is really filthy, but unless you dry the car off quickly, you'll leave more muck still on than the jet will lift off. You need to be careful using a high-pressure jet anyway (either domestic or professional) on seals and other delicate areas.

And don't even go near a rotating-brush car wash unless you really don't care about scratching the car to bits.
I know a guy who took his estate car through the car wash and when the up-and-over brush got to the back of the car, it ripped his rear wiper off. Then proceeded to batter the roof and bonnet with the wiper that was now embedded in the brush… ba-da-ba-da-ba-daaa… all the way through its return to the front. Cost his insurance company a fortune to put right.

I've heard of the same thing happen with car aerials that people forgot to remove, and the aerial stayed wrapped in the brush, only to knock dents all over the next customer's car…
Get a big pack of microfibre cloths – Costco do 30-packs for about £12, and it's a worthy investment. I'd recommend using microfibre mitts for the actual washing too; more of that in a minute.
DO NOT use washing up liquid. It contains salt and is bad for your paintwork, which will end up with a dull finish.
DO use a decent car shampoo – you could go crazy and spend a fortune, but I've been happy with standard Halfords car wash, and the 5L bottle lasted for years. Maybe when it runs out I'll try something else, as recommended by AutoExpress.
DO NOT use a sponge. They just trap all the muck that you take off the car and redistribute it elsewhere, and if you get grit trapped in the sponge, you run the risk of scoring the paintwork.

Instead of a sponge, try using microfibre wash mitts – the good ones will have an elastic cuff to keep it on your hand, and will be dry-lined so you can plunge your hand into a bucket of hot (or freezing cold) water and not get wet.
Don't bother with chamois leathers – they're often either too dry or too wet to be really effective, and you spend the whole time wringing them out. I find a couple of microfibre cloths are every bit as good.
Don't use abrasive (acidic) alloy wheel cleaners – use the same process to clean your alloys that you'd use for the rest of the car, although you might want to give the wheels a going over with a soft brush first (I have a brush that was originally sold as for the bodywork, but have only ever used on the wheels).
If you have what are referred to as "bonded contaminants" (like tar or tree sap), use a clay bar like Meguiars Quik Clay to remove them. This contains a bar (like a small bar of soap), which is rubbed on the paintwork and will lift pretty much anything stuck to the surface without scratching or damaging the paint itself. You simply spray on the "detailing spray" as lubricant then gently rub the clay bar back and forward – it's almost like magic. I tend to use it after washing if I notice something stuck to the paint, but also go over the whole car once a year to lift other gunk and restore the finish, before giving it a good wax. Here's a video of Meguiars and Jay Leno talking about the clay bar.
Don't scrimp on the wax; a few years ago a well-known cleaning products company made a thing that you were supposed to just attach to the end of a hosepipe and it cleaned and waxed the car "in a Flash". Unsurprisingly, it seems to no longer be available… guess the results weren't quite as expected…

Anyway, I use two different waxes depending on the car – Meguiars NXT Tech Wax on darker cars, and for my red car, use Bilt Hamber Auto Balm – it really brings up the colour beautifully. Both are easy to apply and make a huge difference to the finish.
You might want to invest in some good glass cleaner – Meguiars or Rainex would do the trick, though Windolene might be just as effective – though I'm not sure Windolene's dilute Sodium Hydroxide and Polyacrylic Acid would be a good thing for the rubber seals around the windows…
Finally, here's my technique… what you'll need:
2 x dry, clean, microfibre cloths
2 x dry, clean, microfibre wash mitts
1 x bucket of hot, soapy water
1 x bucket of cold, clean water
Start with one wash mitt and the hot water – working from the top of the car down to the bottom of the windows, apply evenly (not slopping too much water around if you can help it). After each panel, dunk the mitt into your cold water bucket and wring it out; you'll be amazed how quickly that water gets dirty. The key here is that we want to take the muck off the car, not simply spread it around – rinsing the mitt regularly helps enormously.
After doing the roof, glass and mirrors, clean the bonnet/front end, the boot and then the doors. Basically, do the dirtiest bits last (usually along the door sills or the very bottom of the car below the boot). Clean the wheels using the same soapy water and the brush.
Empty both the remnants of the soapy water and the now-murky "clean" water bucket and rinse the buckets. Fill one with cold, clean water and gradually splash it all over the car to wash away any residue of the soapy water.
Take the other (dry) mitt and go over the whole car, drying it off – don't worry too much about leaving streaks: the point here is to lift off the majority of the remaining water. Once you've done that, go over the whole car with one of the microfibre cloths and take the rest of the water off. Finally, take the remaining MF cloth and polish up the windows and go over the bodywork to ensure a streak-free finish.
This whole process probably takes 30 minutes, though it will obviously vary depending on the size and degree of filth of your car. It's best to do this when the car's not in direct sunlight and it's not too warm – otherwise you'll get evaporation to contend with, and all manner of streaks will appear before you finished even the first step of washing the car.
Right, that's that. I'm off to get my anorak off…