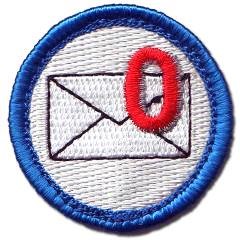 ToW has covered various strategies in dealing with email (189, 223, 310 and more), but this week's tip is shamelessly lifted from a LinkedIn article by an erstwhile colleague and media industry leviathan, Tony Henderson.

Tony, it turns out, authored a book a few years back which offered a slightly different-than-the-norm spin on productivity and how to deal with some of the difficulties of the modern workplace. It's from this tome that he picked some great tips in handling your inbox – perhaps leading to the ability to clear it completely and leave "inbox zero".

The Eleven Rules of Email
Daily Mail Test – "Never write anything in an email that you would not be happy for your mother to read on the front page of the Daily Mail."
Responding – Don't be too quick to respond to email requests – emails are very easy to send, and it is often hard and time consuming to respond.
Expectations – Get people to call you if they want something urgently so that you know whether they are really serious and why they need a response.
Inbox Management – Clear your inbox every day to less than 30 emails (so the list does not reach the bottom of outlook page). Set up folders covering each area you work on – or groups you deal with – and file religiously – even if you have not always read. That way you can go back and review by topic and avoid the stress of an overfull inbox.
Getting Things Actioned – if you are sending an email looking for someone to act flag that action is required by putting ACTION REQUIRED in the title which will mean that everyone who the email is copied will read it.  To make it really clear who and what you are asking you must highlight specific requests e.g.: "Action: Alan to check this issue and confirm." This approach works well with people you know, but may be ignored by people who you don't – a good idea to get verbal agreement first.
Getting Your Message Across – If you need to get an email response from senior people who are busy or don't know you very well.                       

Construct your title carefully (perhaps write it as a proposition such as – "Getting final approval for Project X").
Get the message over in three short and punchy paragraphs – no more.
If you want approval, ask for it by asking them to merely reply to that email and type "yes". This works very well as it makes it so easy for them to respond!
Remember that people are all really pressured by email but generally always scan the title and first few lines.

Avoiding Inevitable Email Accidents – the speed and simplicity of email will always lead to some mistakes; many of them can be rectified by adopting two simple principles.

Set a Delay – Set a sending delay of at least 2 minutes on your Outbox – it gives you just enough time to delete that accidental email. Better still you can set it for specific addresses such as clients.
Double Check Addresses – Double check your address lines in email before you send – Outlook auto insert often puts odd names in there.

Arguments – Never, ever have an argument by email – everyone loses and it is recoded for posterity. If you sense a disagreement coming, make a call or organise a face to face meeting and then circulate the conclusions by email.
Favourite Form of Communication – Email is not everyone's favourite form of communication. Some people are better "live", others like to use the phone, and others respond to formal letters or memos. Try and find out which form your key people like and use it for important communications.
Circulation List – When you need to respond to an email with a wide circulation on it, you need to stop and think. Do I need to send this to everyone? Is this "thread" wasting a lot of people's time? (You can be sure that it is).
Interruptions – While internal emails can be a huge waste of time they can also avoid unnecessary interruptions. After you have interrupted someone at their desk it can take up to 30 minutes for them to get back to their original task.
So while talk is best, email may be a useful method to log a question or thought. Equally making a note and saving it for a lunchtime chat is also a good option.
See Tony's article here, and The Leopard in the Pinstripe Suit, here.