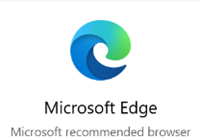 The "new" Edge browser has been around long enough to be just "the Edge browser", given that old Edge is not only deprecated but being removed from Windows 10. If you're still clinging onto Internet Explorer, then get ready for its demise; it's got a year left, then the plug gets pulled. Plenty of ToW's past have dealt with the Edge browser, especially the benefits of having multiple profiles (useful to keep work and personal stuff separate, or even having different sets of credentials for common sites, like demo accounts vs real users).
A feature which was added to the profile functionality was the ability for Edge to switch between them automatically – in other words, Edge would try to determine if you're opening a site in the "wrong" profile, and it also lets you set the default on which profile should be used when you click an external link in an email or a document (other than in the browser itself). This not only changes how the site might be displayed, but also sets where the browser history is saved, and which set of cookies, cached usernames / passwords etc should be used…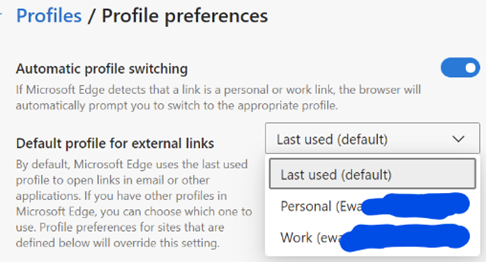 You could set that a specific profile should be used for "external" links; if set to "Work", then all external links (from other apps) would open in that profile; automatic does a pretty good job but sometimes gets flummoxed by M365 sites like Sharepoint, which could mean clicking a link to a doc in Outlook will try to open it in your personal profile, and fail to authenticate (since you'd want it to use the work profile's credentials).
Similarly, if you had it set up to open links in whichever profile was last used or to hard-default to Work, then clicking a URL that you'd want to view in Personal might cross the streams. Fortunately, an unreleased feature could be just what you need in this scenario.
There's a still-experimental "flags" feature set that is part of both Google Chrome and Microsoft's Chromium-based-Edge; different releases of each browser have a changing set of flags features which can be enabled if you know they're there and are prepared that they might not work, or at least might not work in the same way as they eventually will.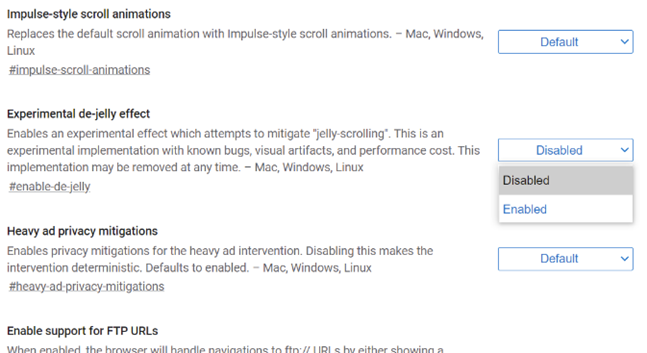 Many flags tweak how the browser operates under the covers and will never be noticeable by the average user; others enable features that are hidden by default or are still early in their development cycle.
The plan is that (in some form) flag features will be part of the mainstream release, though not necessarily in the same way. You can view the flags by entering edge:flags in the address bar.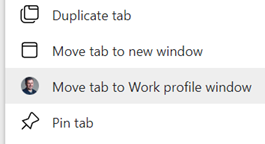 One flag which is eminently and quietly useful in this potential multi-profile befuddlement is edge://flags/#edge-move-tabs-to-profile-window. It does pretty much what it says; right-clicking on a browser tab will let you switch it between the profiles, so if you're presented with a login screen for a site that should be opened in the other profile, one click is all it takes to flick it across.