After Windows 95 appeared on 25 August 1995, one of the later updates was to release a bunch of tweaks and addons which had been built to enhance the OS, but not considered mainstream enough to include them in the box – the Windows 95 PowerToys. They included such amazing advances as a round clock, or tools to help manage the country of your modem. Some more history of the PowerToys was covered back in 2005 by veteran commentator Raymond Chen.
In 2019, the Power Toys name was dusted down for a new run at building addins to Windows, this time using an open source approach; the vision document lays out what the team wants to achieve, and they are steadily releasing new versions with fixes, improvements and new features. You can find Power Toys in the Microsoft Store, or if you like to do to prove your geek creds, you can go straight to GitHub and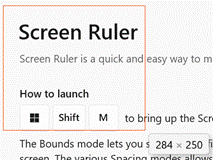 download it.
Recently, v0.62 came out and added some new functions, like a draggable box (Screen Ruler) which shows you the exact number of pixels between the start point and the mouse – useful if you're looking to figure out how large a part of your screen is.
There's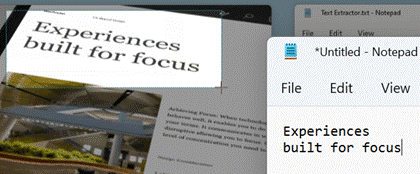 a neat Text Extractor tool which can take a selected area of an image and read the text within it straight to the clipboard – handy if you needed to get the serial number from a piece of electronics; take a picture on your mobile of the tiny writing on the back of the device, and quickly extract the details for pasting into some other app or website.
Other PowerToys of note include the Mouse Utilities, which can help find the mouse on screen – a double-tap of the CTRL key and you'll get a temporary spotlight on the mouse, which can be super useful if you have multiple monitors and are not quite sure where the pointer has gone.