Customer Relationship Management or Customer Engagement, whatever you call it, is a huge part of the IT industry, powering repeated companies to multi-billion dollar valuations. CRM gives companies a way of tracking customer touch points and connecting people together, powering sales teams to track their opportunities and leads, as well as a way of managing GDPR compliance with respect to contact information.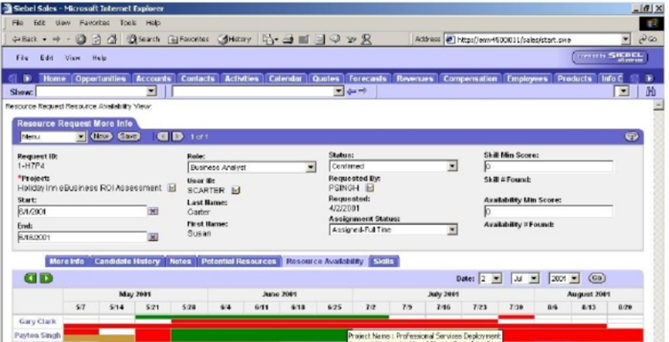 Evolving from personal and then group contact management software in the 1980s, CRM came of age in 1995, with Oracle refugee Tom Siebel establishing Siebel Systems as the early market leader, and eventually acquired by Oracle.

Microsoft deployed Siebel in the late 1990s, initially requiring a "fat client" installation complete with a local Sybase SQL Server on everyone's PC, so they could sync data from the central Siebel system, then eventually moving to be browser-based. One MS sales manager coined the moniker "IIIInSIDE" – If It Isn't In Siebel, It Doesn't Exist – giving sales people nowhere to hide when it came to reporting pipeline of opportunities they were tracking.
Mark Benioff, another ex-Oracle exec, set up Salesforce.com in 1999 to not only establish SaaS as a viable way to deliver "line of business" systems (as part of the first Application Service Provider boom, which was largely wiped out by Dot Bomb), but to ultimately eclipse his former employer in terms of market value. Time also moves on – now that Salesforce is the big dog in the CRM world, there are lots of competitors snapping at its heels… Pega, Zoho and many more.
Not least, Microsoft – the Dynamics CRM business (now part of Dynamics 365 Customer Engagement) is growing fast, and even courted the "Father of CRM" to choose D365 for his new enterprise. If you use Microsoft's Dynamics 365 CRM as part of your job, and use Outlook on your PC for mail, calendaring and contacts, there's a handy way of connecting the two.
Dynamics Connector for Outlook
There have been several versions of a way to link Outlook and Dynamics together; the latest, Dynamics 365 App for Outlook, will fully supplant earlier versions in October 2020. See the admin guide for more on what the connector does and how it works. The installation can be a little clunky first time, though – you'll need to install the connector software from here, which starts by downloading and extracting the setup files to a folder on your PC.
Make sure you're getting the right version for your copy of Office – to check, in Outlook, go to File | Office Account | About Outlook and look to see if you have 32 or 64 bit version installed.

If the latter, download the amd64 version of the client and the first major update package, otherwise download the i386 one.
Once you have the base version installed (a process which takes a good few minutes: you also have the option to enable offline usage, which means setting up a local database to hold the content), don't bother starting it yet – go straight ahead and run the update to the current version (strangely, a larger download than the original install). Once that's downloaded and installed, you'll need to restart Outlook if it's running.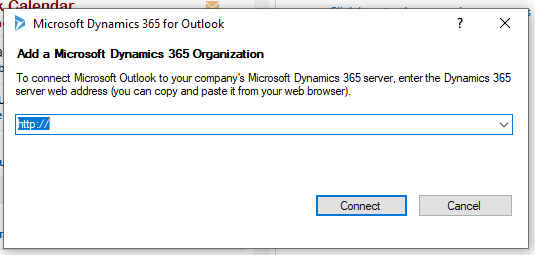 On first run, enter the normal URL you'd use to access CRM – after a few minutes of configuring the addin you should be good to go.
You'll see a new Dynamics 365 tab on the main menu, offering a variety of CRM-specific activities.

Arguably, one of the most useful and obvious (given that you use this data all the time in mail) is managing contacts for your customers – Outlook is a great way of pushing them into CRM.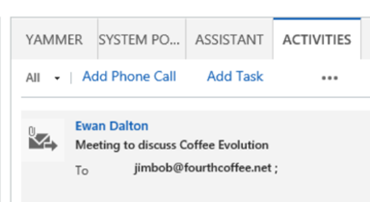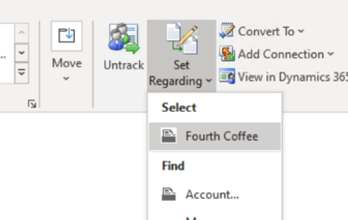 Start with an email – the Dynamics 365 app adds context-sensitive commands to the Outlook UI, so with a couple of clicks you can track an email in CRM – copying its contents into the Account record, so others can see that you sent or received it.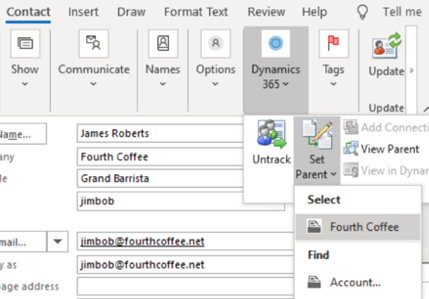 If you right-click on an email address in a message, calendar appointment etc, and Add to Contacts, you can then sync that with Dynamics in a couple of clicks…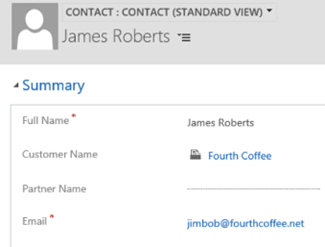 … meaning there's no excuse to not have your important contacts listed in CRM.
You can even match the contacts' LinkedIn profiles, and create an org chart of all the listed contacts.