For some years now, Microsoft has produced an application for mobile devices, which allows easy scanning of bits of paper, photos from physical whiteboards or importing of contact info from business cards.
The "Office Lens" app was originally produced for Windows Phone before being ported to iOS and Android. Later, a PC version came along but with the death of Windows Phone it hardly seemed worth keeping going, since scanning docs and business cards etc is so much easier from a handheld device. As a result, Office Lens on the PC is now gone – dispatched at the end of 2020; if you had installed it previously, you could still use some of its functionality, though the smarter online services that sat behind it are no longer available.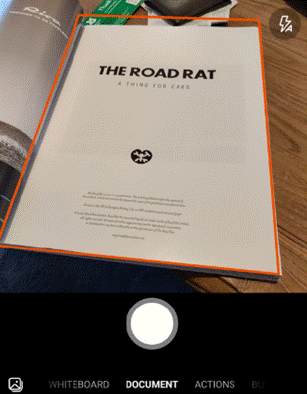 Instead, the old Office Lens mobile apps on the surviving smartphone platforms has been renamed "Microsoft Lens" – along with the release of some improvements and new features.
There are tweaks to the algorithms used to detect edges of documents when scanning pages or turning a receipt snapped at an angle into a square-on image. It's not always perfect, but you can drag the apices to tidy up the process, and save pages as images on their own or multiple pages of a document into a single PDF file, straight to OneDrive or local on the phone.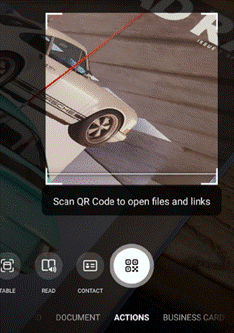 There is also a new "Actions" feature which lets you interact with reality – grab text from something you point the camera at, and potentially feed it into the Immersive Reader so the phone will read it out to you. You can also extract a table from the physical world, or scan a QR code or barcode from something in your hand.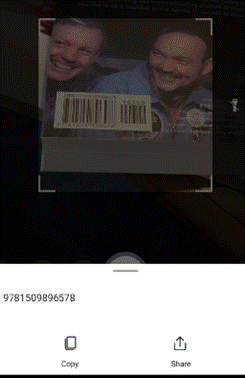 The QR scanning is pretty slick, focussing on URLs or files, quickly enabling you to follow the link or view the doc (and ignoring some types of QRs used for encoding a membership number or serial number of a device, etc).
Similarly, barcode reading just brings back the number, whereas some other apps will provide a bit more context – Lightning QR Reader for Android, for example, can read any text encoded in a QR code and will also give some more details for barcodes, like decoding ISBN codes on books to let you search for more info on that specific title. Still, Lens provides a neat & quick solution for scanning or capturing all kinds of info.

Microsoft Lens (on both Android and iOS) is described as a PDF scanning tool, but it's also got a ton of extra functionality which is worth checking out if you haven't used it for a while.