One thing we all miss about having physical team meetings, is the delight of trying to read an enthusiastic participant's attempt at getting their thought process across by scribbling on a whiteboard. Often with pens that have too little ink left to be legible. Charts with arrows always point up and left and bullet-point, capitalized text that may just be readable, but can anyone remember what it meant by the end of the meeting? At least you can take a picture to decipher later.
Fortunately, there are digital equivalences – you could be in a Teams meeting and co-authoring a document, where multiple people are editing at the same time and marking up comments. You could be watching someone share their 4K screen so they can walk through only a few dozen PowerPoint slides, or you might even have had a play with the shared Whiteboard app that's been around and been part of Teams for a while now.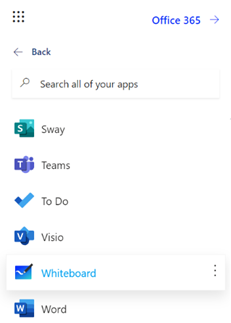 Well, the Whiteboard has had some pretty major updates recently.
The whole UI has been given an overhaul in line with the latest colourful design ethos, and there are lots of neat new features like the automatic shape recognition for mouse-driven drawing. Hold the Shift key down while you're drawing with a mouse pointer or a Surface pen, and it'll straighten lines for you.
It's available in a variety of guises; there's a web UI (app.whiteboard.microsoft.com) and it shows up in the menu on the top left of Office 365 web applications, such as subscribers would find by going to office.com and signing in with your ID. It's on iOS and Android, though updates may flow through at different rates to other platforms.

Of course, it's as a Microsoft Store app too; if you're already a Windows 11 user, you may want to check out the new Store and look for the Library icon on the lower left, showing you what you've installed previously and also which apps have been most recently updated (and am Update button to kick off that process). Sadly, looking at an app's page in the Store (still) doesn't tell you what the current version is or when it was last updated.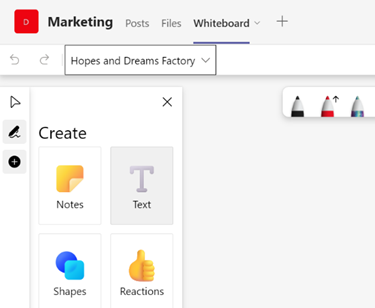 To start Whiteboard in a Teams meeting, just go to the Share menu and look for the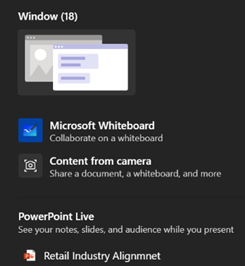 Whiteboard option, just under the part where you'd share your whole screen or individual window.
You can pin whiteboards to Teams channels or chats too; just add a Tab, select Whiteboard from the app list, and the content will persist within that context rather than a point-in-time meeting.