SharePoint is now old enough that it could walk into a bar and buy itself a beer. It has changed a lot over the versions; starting out as a server product that would produce "portals" (or "digital dashboards") it grew quickly to being rather more document-centric. SharePoint became the back-end for OneDrive for Business storage, and both have evolved a long way.
Two years ago, SharePoint was said to be used by over 200 million users. The following year, the Gartner MQ had it way out in front on the "Ability to Execute" Y-axis and slightly behind only one other supplier on the "Completeness of Vision" X-axis. It won't be long now for the next MQ report to appear.
Nowadays, SharePoint underpins quite a lot of Microsoft 365 functionality, such as apps like Lists which provide a groovier UI over the top of the base web services, and the document oriented collab in Teams.

If you look at a file library in Teams, you'll see a bunch of SharePoint-y options – you can Sync the content offline and it will be held offline, using OneDrive to sync it (and if you like, syncing only the files you've opened rather than the whole shebang).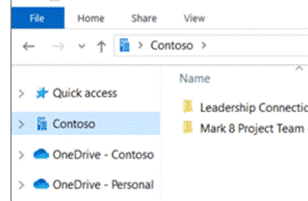 The Sync'ed libraries show up in the Windows Explorer app, and in any number of applications' File | Open / Save dialog boxes, so you can access and interact with the files through the apps you use rather than browsing to SharePoint.
You'll see a collection of folders that have been set up to Sync, shown with your organization name, alongside any personal OneDrive and OneDrive for Business synced libraries.
The Download option (next to Sync on the Toolbar in Teams), creates a single ZIP file your computer, with the entire contents of the folder you're looking at, so use it carefully.

One somewhat overlooked option further to the right of the toolbar (or may be on the ellipsis ("…") menu): Add shortcut to OneDrive. This creates a shortcut link to the current SharePoint folder within your main OneDrive for Business storage, making it easy to find that SharePoint folder in the future, even though it's not synced offline. The Add shortcut option is also visible on the ellipsis to the right of sub-folders when viewed in SharePoint or Teams.
Don't add shortcuts to libraries – or sub-folders – which are already being Synced offline. That would be bad.
One downside to the OneDrive shortcut approach is that it just dumps the link into "My Files", which is the root folder in OneDrive. The shortcut is named the same as the original source – so if you have lots of Teams folders with the same name (eg "Documents"), they will clash with each other as adding a new link would try to create a shortcut with the same name as one that exists already.

One solution would be to create a subfolder in OneDrive, called Sites (or similar), and after creating the shortcut to your latest Teams/SharePoint site, go to the root OneDrive folder and move your new shortcut – maybe renaming it too, so you can see what its parent site was (since the shortcut doesn't make it clear what the source SharePoint site is) – you'd then have a Sites folder with lots of Shortcuts like Project Team – Documents etc.
Another side benefit of using shortcuts rather than Syncing offline, is that if you have multiple PCs – or feel like accessing OneDrive through a browser on a different machine altogether – you will always have access to the same collection of shortcuts, whereas the Sync offline capability is configured separately on each machine.