Many people ❤️ OneNote. It has evolved much over the ~20 years since it sprang from the "Scribbler" project at the turn of the century and was released in the Office 2003 wave, under the name which the developers disdainfully referred to as "Onay-no-tay". A recent update to the OneNote strategy for Windows was covered in Tip #632.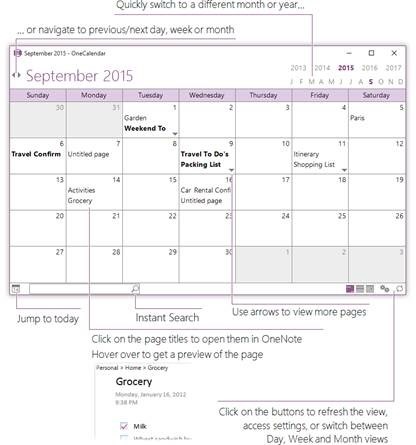 There were other OneNote tips a few weeks previously, in Tip #617, including OneTastic, a great addin to the traditional desktop app – the Metro Modern app never had an addin capability.
As well as powerful macro capabilities, which can do things like generate tables of contents or sort pages and other works in ways that the base app doesn't offer, the OneTastic addin includes the OneCalendar application – also available to install separately – which lets you see which OneNote pages were edited on each day.
If you keep a note of every meeting, stored in different places – by topic, by customer etc – then this is invaluable when it comes to finding notes, as you can see what you last wrote on a given day.
Of course, OneNote has searching capability where you could look across notebooks for key words. There is the ability to Tag notes too, and you can search across notebooks for tagged content.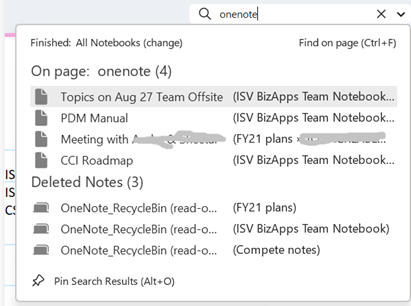 A powerful yet somewhat hidden search capability in desktop OneNote is also available – you can press CTRL+F to search on a given page, or CTRL+E to run a simple query across multiple places, for where a particular word is mentioned.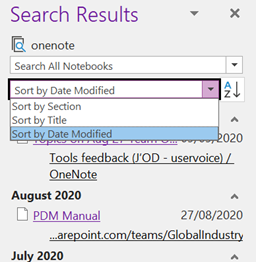 Look, however, at the "Pin Search Results (Alt+O)" option at the bottom – it opens search results in a pane to the side, and lets you sort by different criteria, e.g. date modified.
This ALT+O option can only be invoked from within existing search results, so if you want to find all your recent notes with a searched-for word, press CTRL+E to start, then ALT+O and search by date modified to see the results clustered by month.